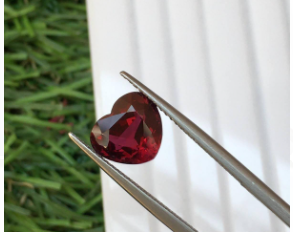 Sayings goes that one of the most coveted of all colored gemstones is Ruby- Birthstone for July. The name Ruby derives from a Latin word called Rubues which means Red. The king of gemstones, Ruby is often regarded as a gem that fulfills one's desire. In astrology this birthstone belongs to the sign Leo, which is the planet Sun. The energy provided by the Sun is the primeval foundation of all life. It is believed that Ruby denotes strength, enthusiasm, nobility and love. No wonder it has been listed as one of the birthstones. 
Birthstones differ on a month to month basis as all those twelve gemstones have their own metaphysical properties and benefits to the wearers. However since we are being welcomed with July, Perfect Shine Gems team wants to shed some light on this stunning gem which has been celebrated throughout history for its rich color and alluring beauty.
Ruby Gemstone: The Fortune Bearer
One of the most highly sought after stones is available in deep red color to pinkish burgundy shade. This precious gemstone is mined in different parts of the world such as Myanmar, Thailand, Sri Lanka and Africa. A lot of Burmese warriors believed that possession of this July birthstone, Ruby, would make them invincible and thus win any battles they go to. Ruby makes the wearer brave and valiant as well as destroys any bad thoughts that arise. 
July Birthstone Ruby: Facts & Significance
Additionally, one interesting fact about this July birthstone is that it is also a symbol of  status and wealth. One who wears it will attract more and more wealth enabling them to wear more of it. Therefore, in Vedic astrology this birthstone is very highly valued and is of great significance. 
Furthermore, Ruby is also not just a birthstone for July, it has also been used to denote 40th anniversary. This July birthstone symbolizes strength in love and in marriage as well. Traditionally on 40th wedding anniversary couples give their loved ones Ruby to mark their special day.
Birthstone for July - Ruby, where to buy
Perfect Shine Gems is the perfect solution to your gems hunt. Whether you are looking for someone to gift Ruby this month or for any other gems feel free to browse our wide collection of gemstones. Also, checkout our guide to buying gemstone online which tells you what all things to take care of and know when you are buying a gemstone online from a vendor for the first time.