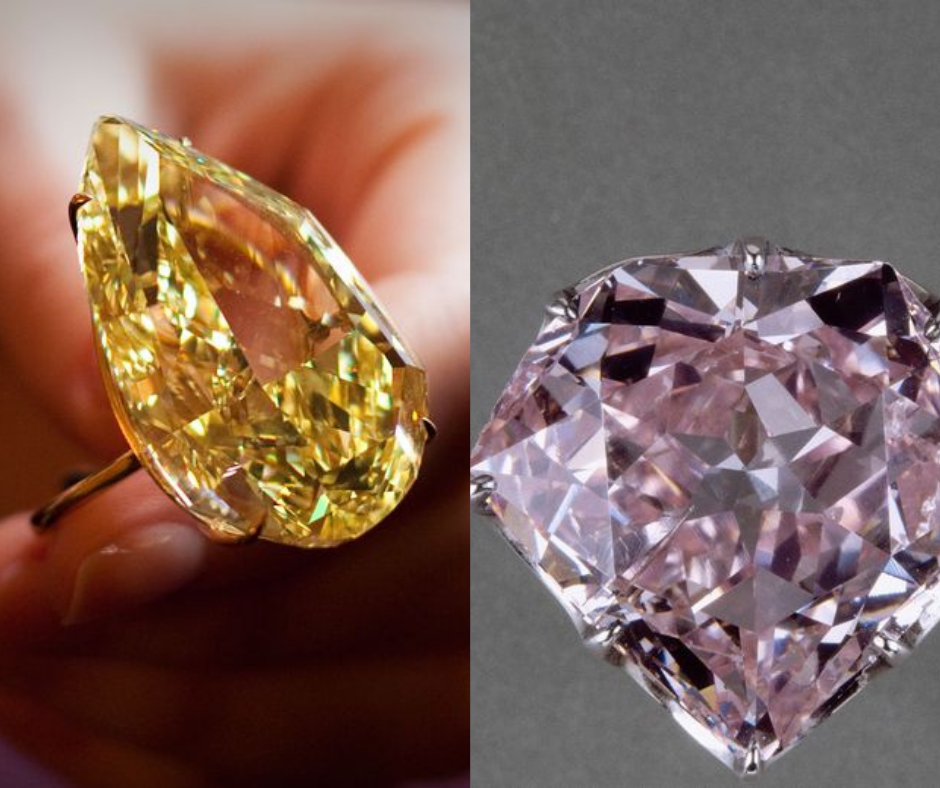 The Hortensia Diamond
Mined from the famous Golconda Mines in India, this 20-carat pale orange-pink diamond was cut into a five-sided shape is now showcased in the Louvre Museum. Named after the Queen of Holland (Napoleon's step-daughter), at one point, the rock glittered on Napoleon's epaulet braid fastening. It was then purchased by King Louis XIV of France in 1643. After the French Revolution in 1792 from the Garde-Meuble de la Couronne. It later resurfaced in an attic in Paris along with the other crown jewels. It is claimed that the location was disclosed by the man before his execution. 
The Cora Sun-Drop Diamond
The Sun-Drop is the largest known yellow pear-shaped diamond weighing 110.3 carats that were mined from South Africa in 2010. The bright yellow color is brightened by its pear-brilliant cut (also called drop-cut). It has a relatively short history after it was bought and cut by the diamond manufacturing company Cora International, it was auctioned off to an anonymous buyer at Sotheby's for $12.36 million. 
The Star of India
This greying blue gem was mined from Sri Lanka. The 563.35-carat star sapphire is among the largest gems in the world. It is currently the world's largest sapphire. It is currently housed in the American Museum of Natural History in New York City. Its history allegedly extends up to two billion years. George Kunz was commissioned by financier JP Morgan to procure a gem collection from the Paris Exposition of 1900. Kunz wrote about the Star of India saying it "has a more or less indefinite historic record of some three centuries".